Minimal Standards Working Group
One of the primary initiatives of the AIRR (Adaptive Immune Receptor Repertoire) Community has been to develop a set of metadata standards for the submission of immune receptor repertoire sequencing datasets. In order to support reproducibility, standard quality control, and data deposition in a common repository, the AIRR Community has agreed to six high-level data sets that will guide the publication, curation and sharing of AIRR-Seq data and metadata: Study and subject, sample collection, sample processing and sequencing, raw sequences, processing of sequence data, and processed AIRR sequences. The overall goal of this standard is that sufficient detail be provided such that a person skilled in the art of AIRR sequencing and data analysis will be able to reproduce the experiment and data analyses that were performed.
An implementation of the AIRR data standard has been developed for the NCBI repositories (BioProject, BioSample, Sequence Read Archive (SRA) and GenBank). Each of these repositories stores a subset of the information associated with the six sets as follows: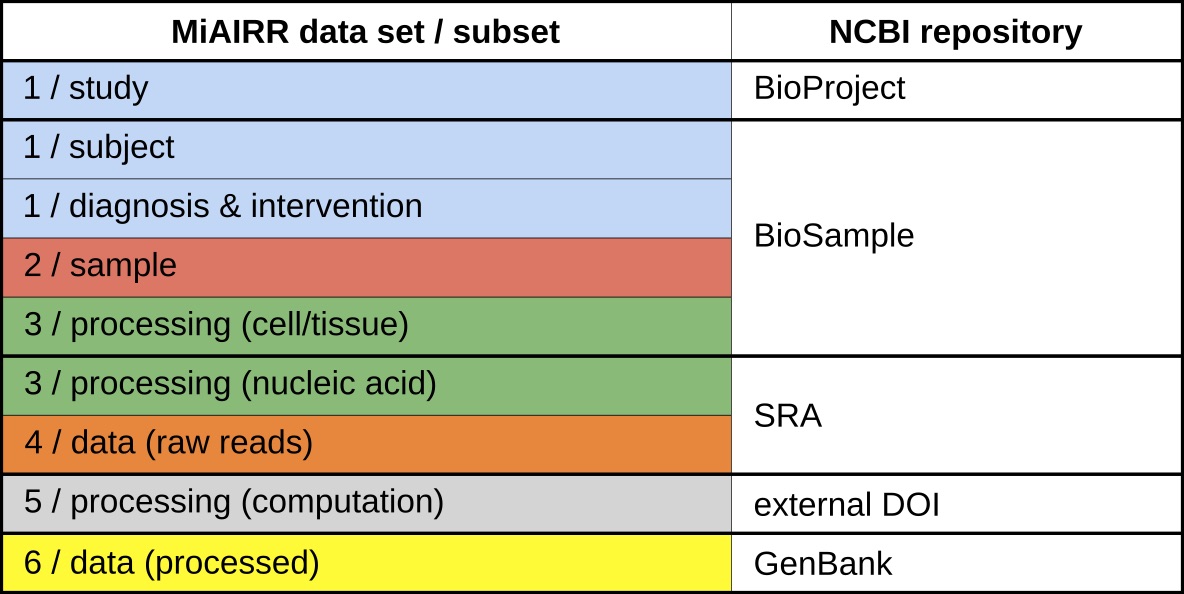 Members: Brian Corrie, Bjoern Peters, Bojan Zimonja, Chaim Schramm, Christian Busse, Corey Watson, Encarnita Mariotti-Ferrandiz, Felix Breden, Florian Rubelt, Jean Bürckert, Jerome Jaglale, Lindsay Cowell, Eline Luning Prak (co-chair), Marie-Paule Lefranc, Nishanth Marthandan, Richard Bruskiewich, Scott Boyd, Scott Christley, Syed Ahmad Chan Bukhari, Uri Hershberg, Steven Kleinstein (co-chair), Uri Laserson, William Faison
Do you need help planning the data that you will collect in your experiments? Click here for a detailed description of the data elements and further details
Are you ready to submit your AIRR-seq data? Click here for a detailed "how-to" guide for submission of AIRR-seq data to NCBI databases (BioProject, BioSample, SRA and GenBank).
The development and implementation of the AIRR data standards in NCBI will benefit the whole AIRR community and accelerate widespread use and adoption of immune repertoire research.